Wedding Limo Service
Congratulations to you and yours on very special upcoming wedding!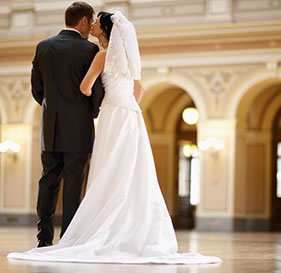 Over 90 couples have taken advantage of our wedding limo service in the past 3 years, and we were proud to be a part of their special day. Click here to see our Bachelorette Wine Tour service page.
Spotlight Limousine would be honored to be part of yours as well.
We have had just about every case synerial and itinerary thrown at us - so don't be afraid to ask for what you want and deserve on your wedding. This will be one of the most important days of your upcoming, new life together.
No request or question, is too silly, or out of the way; it only becomes that way IF you do not ask for it when it could have been available to you.
If all Pick-up & Wedding Service locations are within the same area, and within 40 km of downtown Belleville, original city limits.
Here is what you get: "ALL INCLUSIVE"
Double pick up:

Bride & Bridesmaids

Groom & Groomsmen
6 - 12 passenger SUV Limousines and Sedan Limousines
Five (5) consecutive hours of service
Complimentary Bottle of Champagne, for the Bride and Groom
Privacy window
Experience and professional Chauffeur!
We supply cold water on ice for the all events
USB and Charging facilities
Bring your own music and cable for your device to plug into our sound system

Contact us
for a quote and to discuss your Itinerary.
Optional Limousine time may be available at a special rate when added to our one price package
Lots of Additional Options and Package Pricing
If you are considering a Bachelorette Event, why not consider something different with a Wine tasting tour in the Prince Edward County; bundle it with your Wedding and receive a reduced package price. Spotlight Limousine will get you home safely at the end of the event.

If you are planning a Honeymoon and need a shuttle to the airport, we can create a package for you.
Destination wedding pricing to the airport for your wedding party available.

Tell all your friends about our website, for any and all their special events they all have birthdays/anniversaries check out our ""newly updated" Wine tasting tours ideal for Mother's and Father's day gifts.
Gift Certificates available.
Also, we do same gender weddings.
Upcoming Events
Spotlight Limousine will have a booth at the 8th Annual Quinte Bridal Show. Come visit us at our booth and see our limousines.
8th Annual Quinte Bridal Show Sunday, October 16th 2016, 11:00 am to 3:00 pm
Sunday, January 15th 2017, 11:00 am to 3:00 pm
St. Theresa Secondary School, 135 Adam Street, Belleville, ON
Contact us for a quote or call 613-969-LIMO (5466) to discuss
To Book Now or Request More Information...
Please call us at 613-969-LIMO (5466), or complete the form below to request a date or more information. For prompt service please provide as much important as possible.